I've been thinking about bar carts recently, I think they're pretty fabulous. I associate them with fancy cocktail parties, the holidays, and Mad Men ... all of which I love. I've been seeing them at West Elm and Crate & Barrel and really liked the idea of having a little bar area, and when my sister mentioned she liked the look, I was sold. They look classy and I thought I had the perfect spot for one, an underutilized corner of our dining room. The only problem was the price, for such small pieces of furniture bar carts are pretty expensive. I fell in love with every single one I saw, but none were just right:
1. This one's pretty close to what I wanted but it's just too large for our corner.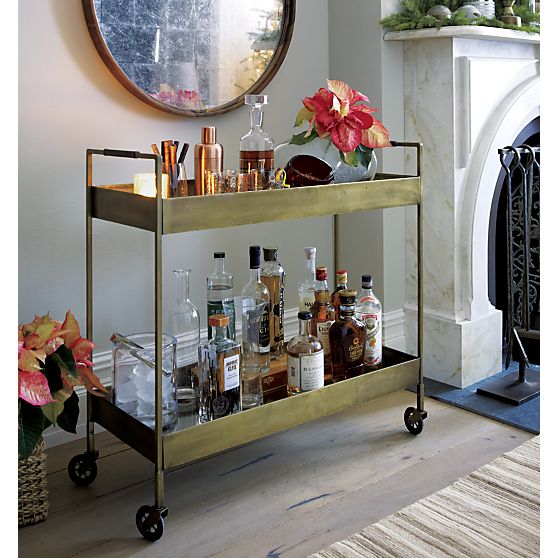 crate & barrel
2. The size is good, but it's too much wood and is kind of outrageously priced.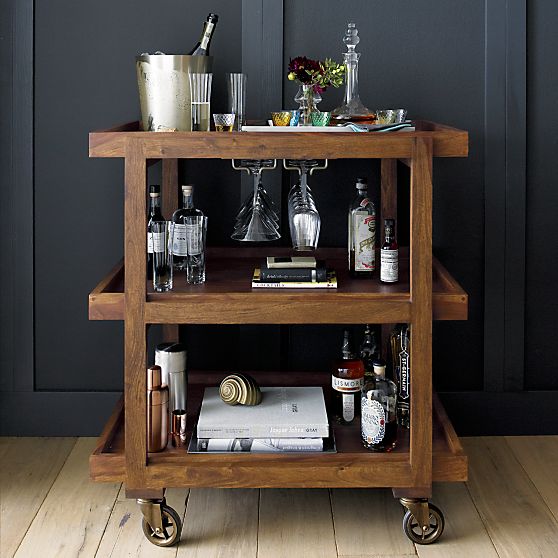 crate & barrel
3. Loved this online but it looked kind of cheap in person, so I didn't bother taking it home.
target
4. This is technically not a 'cart' but it's really narrow and seemed to be the perfect fit.
west elm
I had some discounts for West Elm and ended up ordering the wood console, which I really thought would look good in our dining room. When it came in, the husband and I put it together and moved it in the dining room and then living room. The console was way too narrow, a little wobbly (not risking bottles on top of it), and it was an awkward height. There was something
off
about it.
I was sad to see it go, but I realized we needed something really small as our mobile bar. We wouldn't have space for necessarily mixing drinks and storing many bottles on the cart, but the idea was to keep some of the favorites handy. Instead of looking for bar carts, I began searching for just carts. I checked out
World Market
, a store previously recommended by my friend Lauren who works at Arhaus, which has a rustic but 'clean' style (kind of like mine). I ended up finding not one but two carts that I loved and went with a metal one that the husband chose.
world market
It looks pretty cool and rustic, but a bit sad and kind of under-cooked in a corner. I obviously didn't think this through because alcohol bottles and an ice bucket wouldn't fit on the intermediate shelves. So I put the bottles on their side and moved the bucket to a cabinet in the kitchen. There was something missing, so I got a few Ikea plants and stuck them on the bottom and intermediate shelves.
I like that it fits everything and squeezes nicely in the corner, anything bigger than this would make walking around the dining room table a pain. I also love that there's now some green in the room (even if it's fake). The wall to the left of the cart needs
something
, but I haven't quite figured that out so I'll leave it alone for now. A few more bottles, and we'll be ready for the holidays!