Lately, I've been busy with life things, saving money and energy for future projects, and catching up on some Showtime shows, four more Dexter seasons to go! With all these huge projects looming over our heads like new doors, new fence, and insulation, I've been thinking about
smaller
changes we could make to complete some rooms in our home. One of the items on that list, hallway bathroom.
Our hallway bathroom is original to the house, and it was redone quickly to sell the house. I can tell because it looks a little sloppy, but the basic parts of it are in good condition. Since we moved in, we added the accessories (toilet paper holder, towel ring, etc.), changed the shower curtain rod, and changed the knobs on the storage closet. It looks fine, but not as cohesive as I'd like it to be. Actually, hanging the bathroom accessories was the first real 'work' we did in the house and that is also when we realized our walls require some pretty intense anchors for hanging just about anything. Anyway ...
The shower fixtures haven't been updated in a while, so we'll eventually change them to match the oil-rubbed bronze look and add a hand held shower. I grew up with a handheld and know how much easier it is to clean a bathtub (or wash a future dog?), so there's no point in getting a fixed one if we're spending the money on a replacement. I'm thinking something along the lines of this: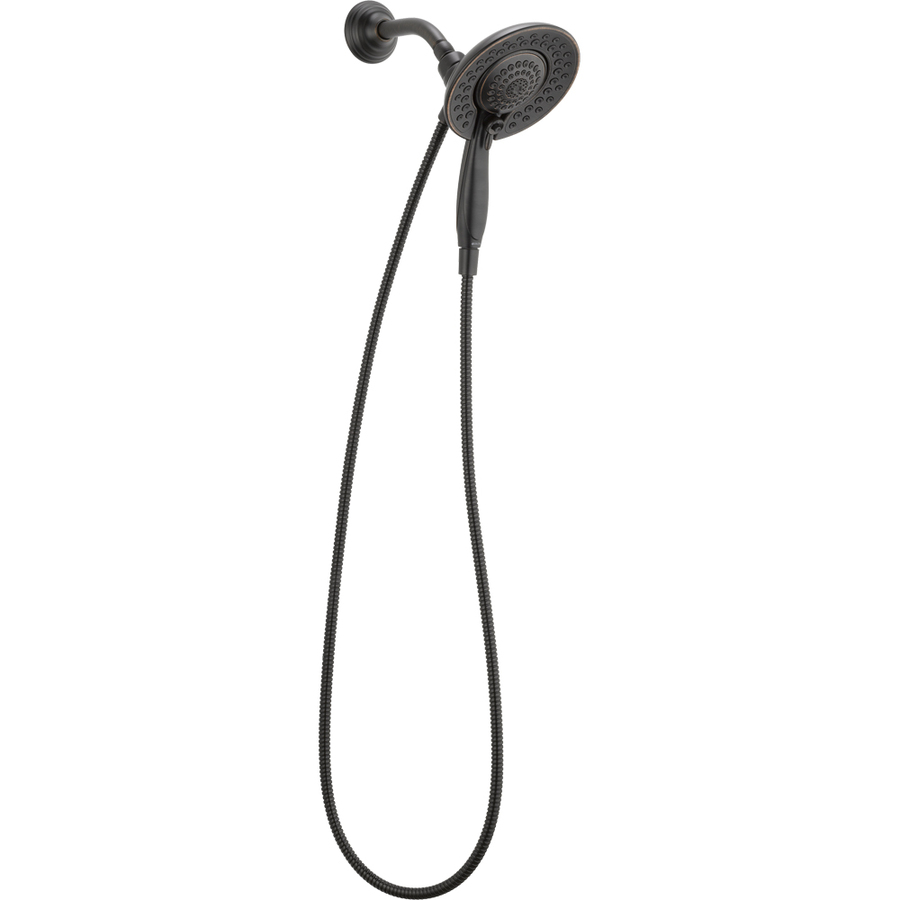 lowes
The light fixture needs to be moved up and changed to an oil-rubbed bronze, I already purchased one I liked at Lowe's. I'd also like to switch the cheap faucet with a better quality oil-rubbed bronze one that'll work better with the light and wall accessories. The mirror and vanity were new when we moved in, so there's no need to change them.
The storage next to our shower is so useful! In old homes like ours, bathroom storage like this is unheard of, so we were pretty happy to see some extra space. The only thing is, it's pretty 'hand-made' looking, so I'd like to add some trim to the outside and and paint both inside and outside.
The floor is original to the bathroom and no matter how much I scrub, it will never look really clean. Since there are new white subway tiles around the bathtub walls, I was thinking we could just update the floor and the bathroom will look completely updated. In theory, this floor's vintage look goes well with subway tiles, but I'd like larger fresh tiles with a nice white trim. I saw the perfect example of the 'dark floor tile against the white subway tile' look on
Young House Love
.
As far as color goes, I'm not set on anything specific, but I could see a repeat of our master bathroom color in here. It would look good against the white tub tiles and bright trim. We won't be tackling this project for a while, but I'm thinking it would be a good one for winter months when we aren't busy with outdoor work.